---
---
Below is a screenshot of the WORLDOX integration screen. The parameters selected in addition to the /M, /S, and /T are there just to make it behave more like the old venerable CompareRite program.
/S Sends the Modified file into 'Diff Doc' through the WORLDOX /n (new file) switch
/M Sends the Original file into 'Diff Doc' through the WORLDOX /o (old file) switch
/T sends the Comparison file FROM 'Diff Doc' to WORLDOX through the /r (Result file) switch
/R4 tells 'Diff Doc' to create an MS Word output report (instead of TXT, HTML or RTF).
/X tells 'Diff Doc' to exit upon completion.
To get to this screen simply open WORLDOX and Select File, Compare, Setup.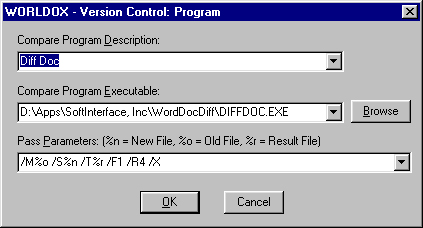 /M%o /S%n /T%r /F1 /R4 /X
Make sure you've un-checked 'quick compare', and any 'advanced options'. Then try again.
We recently added a feature in which alignment can be adjusted for just this sort of problem. Any comparator is not perfect, so an occasional misalignment will occur. However, you can specify which lines should be aligned. Please see the "View\Adjust Alignment" menu item. We are also currently adding a feature which will allow for the comparing of selected line numbers from both documents.
A newly added feature is the comparison of selected rows. Please see the Mini-Diff feature.
View the report in HTML, from there, you can print, e-mail, or even save the report results. The HTML report is in color so differences are shown well. From the Report menu, you can customize the report.
Be sure that MS Word/Excel is installed and that you can open the file type in question. Typically WordPerfect cannot immediately open within MS Word without first installing a module. You can remedy this problem by simply opening up the document type in question within Word/Excel. Word/Excel will prompt you to install the necessary module.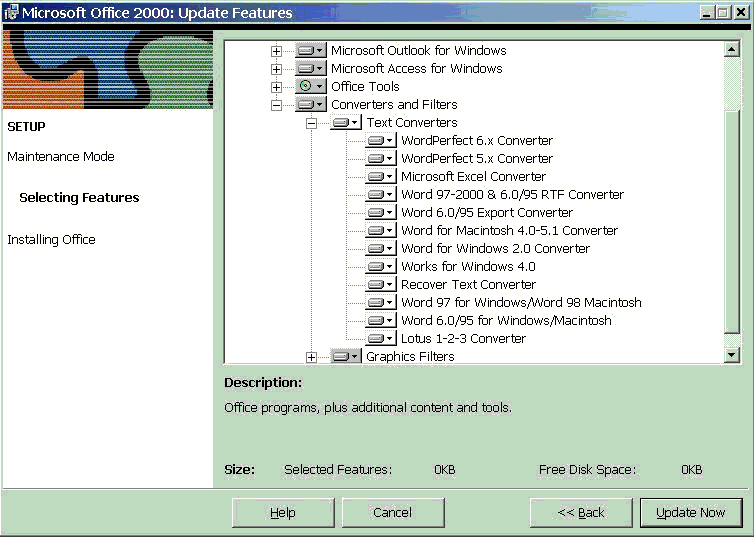 There are no pending bugs at this time. Please submit a bug if you find one.
---
Contact SoftInterface, for information regarding the purchase of the source code for this application.
Yes it does. Because WordDocDiff can be ran from the command line, it is possible to launch it from 3rd party applications. If you need specific options enabled when it is launched you can do it by using a batch file as shown below (e-mail us for specific interfaces ):
@echo off
"C:\Program Files\SoftInterface, Inc\WordDocDiff\WDD.EXE" /m%1 /s%2