'Convert Document To Image' Revision History
(Document To Image Conversion Utility)

RECENT HIGHLIGHTS
Windows 7 Compatibility enhancements. (2.00)

PDF/A-1b now supported as an output file type. (1.06)
3.30 (9/7/2012)
Converting from: RTF, DOC, or DOCX: Incorrect wrapping style for objects behind text.
Conversion from RTF: If there was text between two tables this text was sometimes incorrectly placed.
Conversion from HTML: Some DIVs tags which should be have been converted to text frames were imported as plain paragraphs.
Converson from Word documents: Enhancements made
Conversion: For the first line of text, image text wrapping wasn't working.
3.20 (8/9/2012)
The EMF image type is now supported.
Conversion of DOCX. WMF files now handled properly. Formatting better
Conversion to HTML: INPUT files with Kanji support enhanced.
Conversion from HTML: Numerous enhancements and fixes.

A DIV tag with an emtpy style attribute caused an issue.
Widths of images were not being considered when dealing with table cell widths
Invalid control characters encoded as characters entries are now removed
base64 encoded images with line breaks caused an issue
Some DIVs were being converted to text frames
Tables with superfluous COL elements caused an issue

Converting to PDF: Some INPUT files caused memory overuse
Conversion to RTF: Some minor bug fixes.
Conversion from RTF: Some minor bug fixes.

Colors not matching
Enhanced RTF importing

Some TIFs with bi-levels were being incorrectly converted.
3.10 (7/30/2012)
Conversion Items may now be moved within the 'Conversion Task List'. Select the CONVERSION menu item or the RIGHT MOUSE CLICK to open a pop-up menu item. Move UP, DOWN, FIRST, and LAST are now available. CTRL-U and CTRL-D also move a conversion item up and down respectively.
Users may now be asked to save the 'Conversion Job' file if they are exiting, loading an existing 'Conversion Job' file, or requesting to create a new 'Conversion Job'. If there is no 'conversion job' file at the time, there must be at least 2 conversion items in the 'Conversion job' to be asked to save. Users will not be asked to save if they've loaded a 'Conversion Job' and haven't modified it.
3.01 (5/21/2012)
Command Line: A time stamp will be put in the log file (if /L is specified).
If page splitting is occurring in the output, that is not quite the same as the original, an additional option has been added but is currently only accessible by adding a line to the CDTI_SearchHistory.ini file.
Add the following line immediately below [frmMain] within the CDTI_SearchHistory.INI file:
bOverrideTopBottomParagraphDistance=FALSE
To get it back to the original setting, you can change the line above to:
bOverrideTopBottomParagraphDistance=TRUE
3.00 (5/8/2012)
Converting of DOC/DOCX: NUMPAGES field wasn't always updated correctly.
2.20 (9/6/2011)
Japanese language file added.
2.10 (9/6/2011)
User Interface greatly enhanced.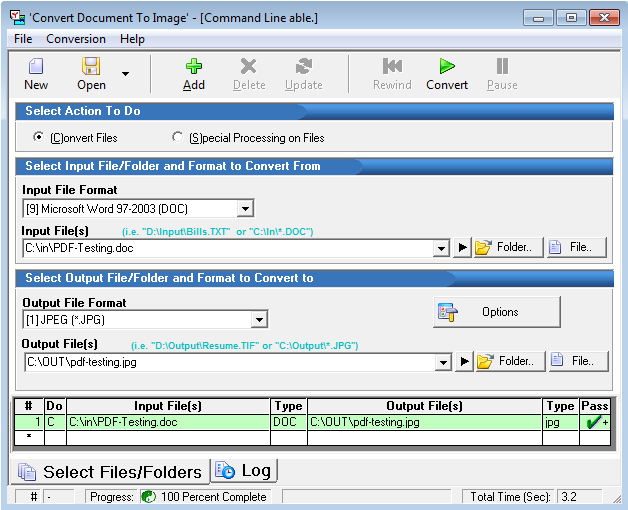 2.04 (1/25/2011)
Conversion of RTF: Numerous enhancements
Conversion of HTML: Numerous enhancments: Relative table heights improperly being set. When using table element line spacing incorrect. Portions of html were getting truncated. Text within form elements not imported. Lists indentation changed.
Conversion of HTML: Windows 7 Specific issue.
Conversion to HTML: Anchored images are not exported in some cases
Converting to DOCX: Extra digit on page number.
2.03 (1/6/2011)
Conversion of DOC and RTF improved
Conversion of files with images: DOC and RTF sometimes distorted bitmaps
Conversion of files with images: Windows 2000 had an issue
Conversion of files with images: EMF's inserted with a file reference were not displayed
Conversion of files with images: 8 bit PNGs that have transparency would not convert
Conversion of HTML: Positioning of images improved
Conversion of HTML: Incorrect default vertical text alignment in table cells
Conversion of RTF: Exporting lists were incorrect in some cases
2.02 (9/29/2010)
Special Processes: When specifying a target file with the wild card, the file extension of the output files did not always use what was specified.
2.01 (8/16/2010)
When converting whole folders of files, options such as convert to a single file, were not being observed.
2.00 (8/13/2010)
Windows 7 compatibility enhancements made.
Command line improved for Windows Vista, Windows 7 and greater. The manifest file was renamed so that running CDTI.EXE won't bring up the UAC (User Account Control) approval dialog by default. Command line users must understand that if they have UAC enabled, and they are doing a command line with output to a protected folder, the results will be placed in the %localappdata%\VirtualStore folder. If you think UAC is having an effect on the command line you can quickly change the name of the program in your command line from CDTI.EXE to CDTI.Admin.EXE. Doing this will enable a prompt to elevate security before the command line is fully executed.
Working well now with Office 2010
Numerous fixes for the conversion to/from HTML and RTF files
Improved conversion of files with PNG and JPGs.
1.20 (3/11/2010)
Conversion to RTF: Numbered list within a table are not converted properly

Conversion to PDF, there were issues with link targets

Conversion of files with some embedded TIFs were causing an issue

Conversion of RTF files, properties of table rows after the table would break the table

Conversion of RTF files, an empty field at the very end of a document would cause an error

Conversion of HTML: Some links were causing an error

Conversion of HTML: Anchored images in the last paragraph were omitted

Conversion of HTML: Standalone XHTML tags were not being converted properly

Conversion of HTML: If a list entry is empty then the closing tag (UL) is missing and the html would be considered invalid.

Conversion of DOC files, Anchored images that were exported could not be loaded

Conversion of DOC/DOCX Files: Wrong font character set data

Conversion of DOCX: After a forced page break, additional paragraphs occurred.
1.096 (2/4/2010)
1.09 (12/21/2009)
Special Process, Search And Replace. When replacing with nothing, the user interface would not update properly. It would work fine however.
1.08 (12/18/2009)
1.07 (11/26/2009)
1.06 (11/1/2009)
1.05 (10/2/2009)
Pre-formatting of the document is now available. For example you can force a page size, margins, fonts etc. This does not apply if your input file type is PDF.
1.04 (9/1/2009)
Example conversion jobs added

Ability to use MS Word for rendering added. Requires MS Word 2007 or greater and the 'Microsoft Office Add-in: Microsoft Save as PDF'.
1.03 (8/1/2009)
1.01 (7/15/2009)
1.00 (6/1/2009)