'Convert PowerPoint' Revision History
(MS PowerPoint Conversion and Manipulation Utility)

RECENT HIGHLIGHTS
4.10 (9/7/2012)
Converting to: RTF, DOC, or DOCX: Incorrect character formatting of a number in a numbered list.
4.00 (8/10/2012)
Converting to PDF: Some INPUT files caused memory overuse
Conversion to RTF: Some minor bug fixes.
Some TIFs with bi-levels were being incorrectly converted.
3.30 (7/30/2012)
Conversion Items may now be moved within the 'Conversion Task List'. Select the CONVERSION menu item or the RIGHT MOUSE CLICK to open a pop-up menu item. Move UP, DOWN, FIRST, and LAST are now available. CTRL-U and CTRL-D also move a conversion item up and down respectively.
Users may now be asked to save the 'Conversion Job' file if they are exiting, loading an existing 'Conversion Job' file, or requesting to create a new 'Conversion Job'. If there is no 'conversion job' file at the time, there must be at least 2 conversion items in the 'Conversion job' to be asked to save. Users will not be asked to save if they've loaded a 'Conversion Job' and haven't modified it.
3.20 (5/21/2012)
Command Line: A time stamp will be put in the log file (if /L is specified).
3.1 (9/20/2011)
Documentation/help file upgraded to CHM (from HLP)
If PowerPoint was not installed, no error was coming up. This was a recently introduced issue.
Double clicking on task list now brings up Advanced Options dialog if appropriate.
3.0 (9/12/2011)
User Interface greatly enhanced.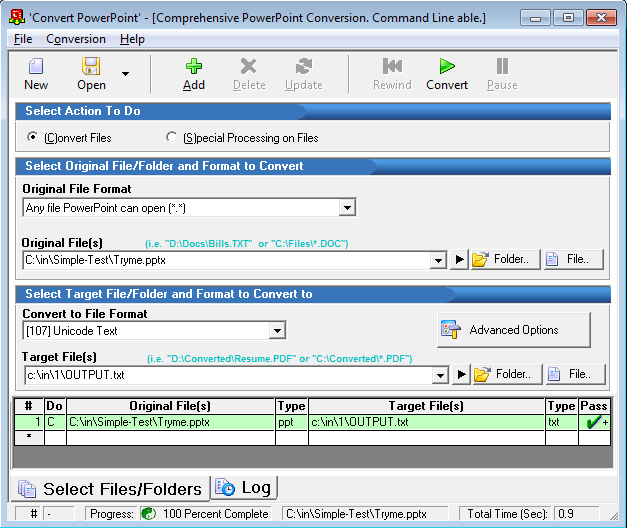 2.02 (1/25/2011)
Conversion of RTF: Numerous enhancements
Conversion of HTML: Numerous enhancments: Relative table heights improperly being set. When using table element line spacing incorrect. Portions of html were getting truncated. Text within form elements not imported. Lists indentation changed.
Conversion of HTML: Windows 7 Specific issue.
Conversion to HTML: Anchored images are not exported in some cases
Converting to DOCX: Extra digit on page number.
2.01 (1/6/2011)
Conversion of DOC and RTF improved
Conversion of files with images: DOC and RTF sometimes distorted bitmaps
Conversion of files with images: Windows 2000 had an issue
Conversion of files with images: EMF's inserted with a file reference were not displayed
Conversion of files with images: 8 bit PNGs that have transparency would not convert
Conversion of HTML: Positioning of images improved
Conversion of HTML: Incorrect default vertical text alignment in table cells
Conversion of RTF: Exporting lists were incorrect in some cases
2.00 (8/13/2010)
Windows 7 compatibility enhancements made. Default report folders now updated.
Working well now with Office 2010
Command line improved for Windows Vista, Windows 7 and greater. The manifest file was renamed so that running ConvertPPT.EXE won't bring up the UAC (User Account Control) approval dialog by default. Command line users must understand that if they have UAC enabled, and they are doing a command line with output to a protected folder, the results will be placed in the %localappdata%\VirtualStore folder. If you think UAC is having an effect on the command line you can quickly change the name of the program in your command line from ConvertPPT.EXE to ConvertPPT.Admin.EXE. Doing this will enable a prompt to elevate security before the command line is fully executed.
1.48 (4/8/2010)
Langauges: French language file added.
1.47 (4/8/2010)
Conversion: Added PPTX as a file type filter when choosing an input file. Office 2007 compatibility.
1.46 (3/31/2010)
Conversion: Conversion to TXT or UNICODE text was repeating items.
1.45 (3/30/2010)
Conversion: Conversion to UNICODE text is now functioning properly for Chinese, Japanese, Russian, etc. text.
1.44 (3/29/2010)
Conversion: Office 2007 ppt files, Notes were sometimes causing all slides not to be processed.
1.43 (12/21/2009)
Special Process, Search And Replace. When replacing with nothing, the user interface would not update properly. It would work fine however.
1.42 (10/27/2009)
User Interface: Upon completion of a Conversion Job, the status bar now flashes 100% complete.

If minimized, the taskbar flashes to indicate completion.

User Interface: When running the scheduler, if program is minimized the time remaining shows up in the task bar.
User Interface: When running the scheduler, PAUSE button now enabled to halt scheduler.
5.523 - Minor fixes to user interface when using the scheduler.
1.41 (6/19/2009)
Saving as Text was not always working for Office 2007.
1.40 (6/12/2009)
Command Line: /O switch was broken.
1.378 to 1.39 (4/23/2009)
1.373 to 1.378 (3/30/2009)
Usability: Users no longer have to press the ADD button for the program to convert. Upon pressing the ADD button, the program assumes you will be creating a conversion job that has more than one conversion item.

Usability: When pressing the PAUSE button, the status bar now reflects this fact, and the Green check or Red X is properly displayed if the last running conversion job finished.

Usability: Users no longer have to press REWIND if the last run went to 100% completion.

Usability: When pressing the PAUSE button, the mouse now restores back to the arrow as it should.

Error Logging: If users pressed PAUSE during a conversion job, and then clicked CONVERT, any errors logged from this point had an incorrect 'Conversion Job Number'.

Command Line: Should run much faster now that many ini parameters are not being unnecessarily loaded.
1.37 to 1.373 (8/29/2008)
1.36 to 1.37 (10/29/2005)
1.35 to 1.36 (5/10/2005)
Text within Groups and Subgroups are now exported when converting to TXT

Exporting using MS Word is now more robust than before.
1.34 to 1.35 (3/24/2005)
You can now launch BAT files from the "Launch (Run) Program" special process

Italian Language module added
1.33 to 1.34 (2/5/2005)
User Interface given a 'Face Lift'

Installation redone to fix several issues.
1.32 to 1.33 (10/28/2004)
1.31 to 1.32 (10/18/2004)
Updated Registration

Increase level in numbered lists is retained when an HTML file is loaded

Page size is same as original after a document has been converted

Margins are now converted correctly to HTML

Converting special documents to PDF no longer causes an internal error

Accurate HTML output with bullets and numbered lists

Restarted lists are accurately converted from DOC files
1.30 to 1.31 (9/21/2004)
1.26 to 1.30 (9/14/2004)
1.26 to 1.28 (8/5/2004)
1.25 to 1.26 (7/31/2004)
Completely rewrote the conversion engine and upgraded user interface.

New target file types available, including DOC, Text, EMF (enhanced Meta File)
1.24 to 1.25 (7/3/2004)
1.1 to 1.2 (6/12/2004)