Major Upgrades
User interface completely updated. Fonts are now 25% bigger. See Version (11.50 March 24th, 2017).

Windows Server 2016 (beta) Compatibility. See Version (10.00, 4.57 December 13th 2015). Critical upgrade if you are going to use Windows 8.1 or newer.

Windows Server 2012 R2 Compatibility. See Version (10.00, 4.57 December 13th 2015). Critical upgrade if you are going to use Windows 8.1 or newer.

Windows 10 Compatibility. See Version (10.00, 4.57 December 13th 2015). Critical upgrade if you are going to use Windows 8.1 or newer.

Windows 8.1 Compatibility. See Version (10.00, 4.57 December 13th 2015). Critical upgrade if you are going to use Windows 8.1 or newer.

Windows 8 Compatibility. See Version (4.00,4.10, 4.20,4.30-4.37)

Windows 7 Compatibility. See Versions (3.00, 4.00, 4.30-4.37)

Vista Compatibility enhancements. Program may now run faster on Vista. See Version (1.87)
Detailed Change History
11.50 (3/28/2017)
User interface completely updated. Fonts are now 25% bigger. This is great for those using bigger monitors.
11.40 (1/23/2017)
Command line /? switch now works. Help file was shutting down, now opens equivelent URL.
11.30 (12/20/2016)
'Convert Image' on-line documentation updated. On-line documentation now responsive to the device and user friendly.
Documentation updated: Local help file now remembers size and position of last run.
11.10 (11/23/2016)
10.10 (2/15/2016)
Skip INPUT files already processed (i.e. Do not overwrite existing Output files) implemented in the File\Options menu item. Any input file that has an associated output file that exists will not be processed when this feature is enabled. This is useful for processing the same folder repeatedly while not converting files that have already been done.
10.03 (12/14/2015)
During registration, the "Register Now" button sometimes did nothing.
10.00 (12/13/2015) from 4.57 (12/1/2015)
Addressed several application stability issues.
Critical update. Windows 10 Compatibility. Do not use Windows 10 with a version earlier than 10.00.
Windows 10 (and Windows 8.1) Compatibility modifications completed. Please upgrade if you haven't done so already. This version will be much more reliable on the latest operating systems.
4.50 (7/14/2015)
Added ability to preserve time stamp to output file. See the File\Options menu item
4.3953 (1/14/2015)
Output file names were defaulting to lower case, instead of what the user typed in.
4.38 (10/16/2014)
When Adding the first conversion item, the user interface now selects the just added item in the 'Conversion Task List'. This allows for modifying the just added item with the Update button. Previously, a user would have to manually click the just added row to modify it. This is much more user friendly.
4.37 (8/21/2014)
Documentation updated to reflect recent enhancements
Languages folder has been moved to the %AppData%\Softinterface, Inc\ folder.
4.36 (8/8/2014)
Application default font set to Tahoma. In some instances of Windows 7 (perhaps 8.x) the default font "MS Sans Serif" was installed but not the smaller type fonts. This resulted in a user interface with text much too large.
4.30 (7/18/2014)
Application prevents user from writing to operating system protected folders
Application loads and exits faster now. Needless startup and shut down items removed.
User interface: The 'Conversion Task List' grid now auto-sizes the Input and Output file columns making it much easier to see everything.
User interface: The LOG displays much better now that the table autosizes allowing for the viewing of the error/warning.
User interface: CTRL-TAB and (SHIFT-CTRL-TAB) now works far Tabbed items within dialog boxes.
If a 'Conversion Job' file (e.g. *.SII) has #OPEN.SII at the end of the filename then the 'conversion job' will only be opened for editing and not executed when chosen from Windows Explorer. For example a file named c:\MyJobs\WorkingOnThis#OPEN.SII will open within the user interface when double clicked. Without the #OPEN.SII the 'Conversion Job' file will execute as before.
User interface: When opening a conversion Job file, the default folder will initially be %AppData%\Softinterface, Inc\Convert Image\
Demonstration 'Conversion Job' files are now installed in %AppData%\Softinterface, Inc\Convert Image\ folder.
Users can specify the following in the program and commandline:
%USERPROFILE% or %HOMEPATH%
%APPDATA%
%LOCALAPPDATA%
%MYDOCUMENTS%
%WINDIR%
4.20 (6/5/2014)
Manual updated
Version number now shown when launching application.
Windows 8 Installation - Removed excess icons in the Start menu.
4.10 (11/18/2013)
Registration upgraded to handle Windows 8.
4.01 (10/24/2013)
If the program was closed while the size was maximized to the screen the software would not re-open.This was introduced in version 4.00.
4.00 (10/18/2013)
Installation upgraded to handle Windows 8 and Windows 7.
3.50 (6/26/2013)
Documentation/Help updated. Chrome now works properly for html web based help.
3.46 (5/30/2013)
Selecting the INPUT or OUTPUT folder. When the asterisk was used, the program would always start the selection at the root ("computer") instead of the path last chosen. This is now resolved allowing for quick file/folder selection.
3.40 (7/30/2012)
Conversion Items may now be moved within the 'Conversion Task List'. Select the CONVERSION menu item or the RIGHT MOUSE CLICK to open a pop-up menu item. Move UP, DOWN, FIRST, and LAST are now available. CTRL-U and CTRL-D also move a conversion item up and down respectively.
Users may now be asked to save the 'Conversion Job' file if they are exiting, loading an existing 'Conversion Job' file, or requesting to create a new 'Conversion Job'. If there is no 'conversion job' file at the time, there must be at least 2 conversion items in the 'Conversion job' to be asked to save. Users will not be asked to save if they've loaded a 'Conversion Job' and haven't modified it.
On rare occasion, loading a 'Conversion Job' file would not work. This happened when setting to convert all pages in a tiff by specifying "*", the asterisk.
3.30 (5/21/2012)
Command Line: A time stamp will be put in the log file (if /L is specified).
3.20 (1/23/2012)
Japanese language file updated
3.10 (9/12/2011)
User Interface greatly enhanced.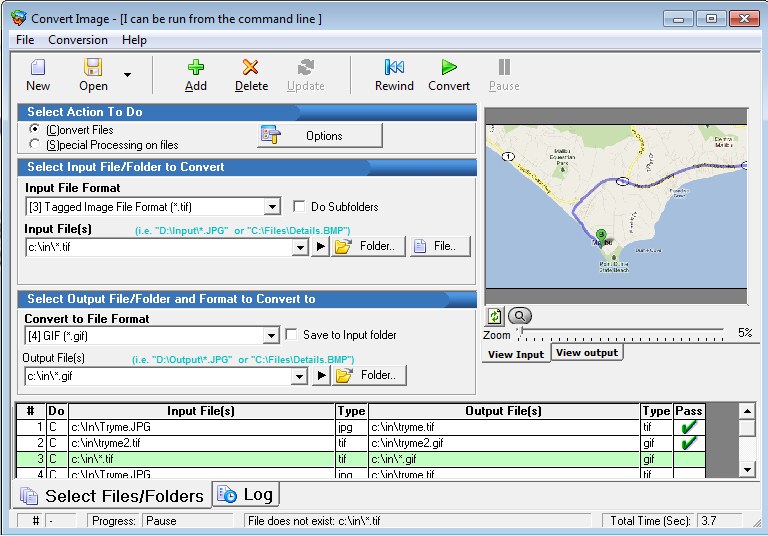 3.00 (8/16/2010)
Windows 7 compatibility enhancements made. Default report folders now updated.
2.0 (12/29/2009)
Help system completely rewritten. CHM help file now used, and web help is there for backup.
User Interface: The terms "Original" and "Target" file have been replaced with the more intuitive "Input" and "Output" respectively.
User Interface: If users launch the target file and it does not exist, now it opens the folder in explorer.
1.990 (10/26/2009)
User Interface: Upon completion of a Conversion Job, the status bar now flashes 100% complete. If minimized, the taskbar flashes to indicate completion.
User Interface: When running the scheduler, if program is minimized the time remaining shows up in the task bar.
User Interface: When running the scheduler, PAUSE button now enabled to halt scheduler.
1.989 (8/19/2009)
The Shell Extender would open the program, however the user interface would not look proper.
1.988 (8/6/2009)
Move the input (original) file after processing has been added as an option. See the File\Options menu or the Options button in the user interface. This will be very helpful for those looking to use the scheduler to convert a specific folder of files while avoiding redundant conversions.
1.987 (5/12/2009)
Scheduler updated. Countries where time format was MM/DD/YYYY were sometimes problematic.
1.985 (5/12/2009)
Command Line: /O switch was broken.
1.9842 (5/29/2009)
Command Line: Full path not required for /S /T /L /B and /J. If the full path is not specified it is assumed the current folder will be used. If the current folder path is invalid, then the folder that contains ConvertXLS.exe will be used. This makes it easy to specify the command line like so:
ConvertImage.EXE /S "Coffee.jpg" /T "cream.png" /F1 /C8
1.980 to 1.983 (4/21/2009)
Scheduler: When running a scheduled job under Windows XP an error would occur.

Most Recently Used Conversion Job files now available from the FILE menu item.
1.972 to 1.980 (3/29/2009)
Usability: Users no longer have to press the ADD button for the program to convert. Upon pressing the ADD button, the program assumes you will be creating a conversion job that has more than one conversion item.

Usability: When pressing the PAUSE button, the status bar now reflects this fact, and the Green check or Red X is properly displayed if the last running conversion job finished.

Usability: Users no longer have to press REWIND if the last run went to 100% completion.

Usability: When pressing the PAUSE button, the mouse now restores back to the arrow as it should.

Error Logging: If users pressed PAUSE during a conversion job, and then clicked CONVERT, any errors logged from this point had an incorrect 'Conversion Job Number'.

Command Line: Should run much faster now that many ini parameters are not being unnecessarily loaded.
1.97 to 1.972 (2/26/2009)
1.96 to 1.97 (11/17/2008)
1.93 to 1.96 (10/20/2008)
Conversion: 1 pixel high tiffs were not converting well

Conversion: 1 pixel high JPEGs were not converting well
1.92 to 1.93 (8/15/2008)
1.90 to 1.92 (2/3/2008)
1.89 to 1.90 (2/3/2008)
1.87 to 1.89 (10/29/2007)
1.86 to 1.87 (6/20/2007)
1.85 to 1.86 (4/14/2007)
1.84 to 1.85 (1/25/2006)
Language translation: When looking at an image within the image viewer, the buttons were not being translated.

French Language module added
1.83 to 1.84 (1/7/2006)
1.82 to 1.83 (10/19/2006)
1.81 to 1.82 (10/18/2006)
1.80 to 1.81 (9/22/2006)
Command Line: If a conversion job was not rewound, the command line would report a successful conversion, even though it did nothing. Now, if doing the command line, the complete conversion job is done from beginning to end, regardless of whether or not the conversion job was rewound last time it was edited.

Max number of files during trial changed from 250 to 100
1.74 to 1.80 (6/15/2006)
1.73 to 1.74 (3/9/2006)
1.72 to 1.73 (12/13/2005)
1.71 to 1.72 (11/30/2005)
Conversion: Target file path and name now auto created as Original file is entered.

Conversion: Target file type can now handle any extension specified when doing whole folders of files
1.70 to 1.71 (10/25/2005)
Documentation updated to reflect newly added special processes

Conversion: Target file path and name now auto created as Original file is entered.
1.60 to 1.70 (10/18/2005)
CONVERSION\Converting from TIFF to TIFF when the target file did not exist, and Appending was set to true caused a crash.

Numerous special processes for transforming images have been added.
1.50 to 1.60 (10/10/2005)
1.02 to 1.50 (9/6/2005)
Resize image transformation added.

Image Viewer greatly enhanced

Numerous examples of command line usage added in documentation.
1.01 to 1.02 (7/27/2005)
1.00 to 1.01 (6/1/2005)
1.00 (5/3/2005)